+ Interest Free Financing For 18 Months
Invisalign is a modern solution to straightening your teeth that consists of a custom-made aligner that is interchanged roughly every two weeks for a period of six to eighteen months.
Most people don't grow up to have perfectly straight smiles, but it isn't always convenient to have metal brackets and wires placed just to correct misalignment issues. In this case, clear braces in Oak Park are crucial in correcting problems without the world knowing that you are undergoing orthodontic treatment. At One Fine Smile, we are excited to offer a clear orthodontic solution with Invisalign®. 
Invisalign® is a treatment that involves clear plastic aligners that force pressure onto the teeth to correct issues with misalignment and malocclusion. The trays are completely clear–virtually invisible. They should be worn for a minimum of 22 hours a day and need to be removed when brushing your teeth and practicing other oral care habits. Clear, smooth, and durable plastic is custom molded into a set of nearly invisible aligners that snap into place over your teeth.  
Are Clear Braces Right for Me?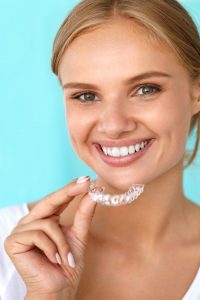 An exam, as well as series of x-rays, is needed to determine if you're a viable candidate. Some of the reasons you'd be a good candidate include:
You have crowded, crooked teeth 

 

You have other malocclusion problems like an underbite or overbite 

You want a metal-free orthodontic option 

 

You need to straighten your teeth inconspicuously (professional adults) 

You want orthodontics that can be removed 
How Do Clear Braces Work?
The treatment for clear braces is quick and easy, often yielding results in several months. You will make frequent trips into the office to be fitted for new trays. These trays need to be worn for at least 22 hours a day to yield effective results. Every two weeks, you will come into the office and have a new set of aligners made to take home with you.   
The aligners will straighten your teeth over time. The length of time required for treatments is based on the severity of the misalignment. Because they are clear, they go virtually unnoticed, allowing you to feel confident in your day-to-day actives.   
Are You Looking for Clear Aligners in Oak Park, IL?  
If you are interested in straighter teeth with none of the hassle of metal braces, give us a call today!  
"Invisalign®, the Invisalign logo, and iTero®, among others, are trademarks and/or service marks of Align Technology, Inc. or one of its subsidiaries or affiliated companies and may be registered in the U.S. and/or other countries."