Our Dentistry team here at One Fine Smile are committed to providing you with the highest quality, friendly, and compassionate dental care possible. We uphold the highest degree of professionalism and clinical expertise while providing you with the most effective and beneficial dental care and treatment.
From the moment you walk through our doors, you will be greeted by name with a warm and friendly smile, and given the individualized attention and care you deserve. We want you to feel comfortable and at ease during all your visits with us.
Cindy is our office manager here at One Fine Smile. Her passion is to empower employees to work at their highest level, stay inspired and to be efficient. She has two children and her hobbies revolve around health and wellness. She is beyond caring and hard-working and would drop everything for anyone who needs her. She's a treat to have in the office.
Pam- Assistant Office Manager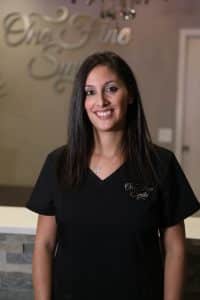 Pam has been a part of the One Fine Smile team for 15 years. You can often find her at the front desk. Her bubbly and friendly personality allows for patients to feel comfortable and welcome. She views the team and the patients as family. Her hobbies include traveling and spending time with her husband, two kids and her dog.
Pamela, aka "Vivian", has been with One Fine Smile for 10 plus years. Vivian loves being a team player and is always very helpful in making sure all your questions and concerns are addressed. She treats all patients like family. She loves spending her free time with her husband and three kids.
Rene has been working as an assistant in the dental field for 18 years. She enjoys interacting with the patients and making them feel at ease during their dental procedures. When she is not at work, Rene loves spending time with her husband, two kids and two doggies.
Thalia has been in the dental field since 2013 and has been with the One Fine Smile team for four years as a dental assistant, helping Dr. Judy Burgess-Drain educating patients with their oral health. She also helps us with some light duties in the reception area,  and is an awesome team player. She likes to learn new things and believes challenges help us become better in every aspect of life. When she's not at work she loves to spend time with family, friends and her furry babies. She also loves to dance to Latin music and go shopping.
Cecilia is one of our assistants here at One Fine Smile. She is a biology major pursuing her degree into pediatrics and plans to take her knowledge to provide to children in foreign countries where healthcare is limited. In her free time she is always surrounded by nature and loves traveling/exploring Europe. Having her work at One Fine Smile we help her achieve her overall goals by interacting with patients ranging from all ages but also challenging her abilities. She's a very kind-hearted, down to earth person who is always lending a helping hand. We are delighted to have her as part of our team.
Jan has worked for the "Fine team" for many years. She began as a chairside assistant, then left to raise a family. She returned, after finishing dental hygiene school, as our hygienist. She brings her passion for hygiene to each appointment. Her intent is to empower every patient to improve their health by educating them about proper homecare. She prides herself on being gentle, yet thorough, and providing individual attention to each patient. When not flossing, Jan spends her time looking for decorating ideas, pursuing her interest in photography and spending time with her family
We are happy to announce our newest member to the One Fine Smile team, Kayla. Kayla is joining our team from Kentucky and is excited to meet and cultivate her relationships with all of our patients. Her "southern belle charm" and friendly personality has allowed for an easy transition! Her mission is to help provide education and top-notch care for her patients to achieve a state of optimal dental and oral health personally appropriate for them. By continually striving to provide excellence in personal and professional service, she intends to accomplish this in a caring and gentle manner, thus enhancing the quality of her patient's lives. Her hobbies include reading, fitness and spending time with family and friends. Help us welcome her to our practice by calling and making a hygiene appointment today!